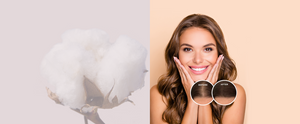 for noticably
thinning hair
Boost N Blend™ is a women's hair cosmetic that adds instant volume to noticeably thin and thinning hair.
Simply shake in and go!
So simple and quick, it restores volume instantly
Specially formulated to cover visible thinning hair
Comes in a range of colours to suit all women
Made from cotton, vegan friendly for health conscious women
As I'm getting older I'm finding my hair is getting thinner (I didn't know that was even possible). A friend mentioned Boost N Blend™ to me and I thought I'd give it a try. It definitely makes a difference and blends in perfectly. You can't see where it is, but you can see the difference it has made.
Rhonda
I have used the product for few months now and found it better than hair wax and hair sprays. It covers up my greys perfectly As well as a thinning area which I like to hide. I love it so much, i have found sprays and hair wax cause itching and this product doesn't. thank you for this game changer.
Joanne
So excited that i've found a cosmetic cover up that can hide my thinning hair in just a few seconds - but more importantly, hide my scalp from everyone. It's ok for guys to be thinning but it's not ok for women to have thinning hair and a visible scalp. Now I can leave the house without worrying what people think.
Suzie
NEW BOOK - HAIR LOSS IN WOMEN
AVAILABLE NOW!
If you've walked away from a doctor's appointment almost in tears wondering where to now. If your doctor couldn't offer you any decent advice or dismissed your hair concerns, then this is the book for you. Former Registered Nurse and female hair loss expert, Bambi Staveley has answered every question you could possibly ask about female hair loss in her second book.
HAIR LOSS IN WOMEN - UNDERSTAND WHY THIS IS HAPPENING TO YOU AND HOW TO TURN YOUR HAIR GROWTH BACK ON.
This book is a complete life changer. Every possible cause and every possible solution is comprehensively covered in this must-have book. 
Not only does Bambi cover her personal journey with hair loss, and her road to complete recovery, including exactly what she did to get her hair back (no there are no miracle products involved!) she provides you with the benefit of over 10 years of painstaking research. Her knowledge picks up where most medical practitioners leave off. If you are not satisfied with the medical advice you are getting, then you need this book. Bambi's research and her wisdom as an RN ensures that this comprehensive book answsers every conceivable question you may have.
JOIN
the sisterhood
Join more than 2,700 women in our Private Facebook Group talking about hair problems and issues common to us all. See before and after photos that have not been made public. This is a CLOSED group for women who want to talk about their hair thinning and the hair care issues we face every day. Particularly for women who have fine, thin or thinning hair.

Simply hit "Join group" when you arrive at the page.
The Best Hair Fibre Products
Boost N Blend is the only female fibre hair product designed by women, for women. This natural hair loss concealer provides instant results by using tiny micro fibres to cling to each individual hair shaft and make each strand up to 10 times thicker. Our entire range has been designed to be kind to hair and boost its appearance so you can look and feel great.
Here at Boost N Blend, we have two fibre hair products online which use these natural hair fibres. These include our Boost N Blend and RootZ hair thickening products, which have been developed to provide the solution for noticeably thinning hair. Both are incredibly easy to use – simply shake in and go. Check out our range today, and get ready to step out with a reinvigorated sense of confidence!
For further tips and suggestions, reach out to our friendly team at customercare@boostnblend.com. We've been there ourselves, and we're happy to answer any questions you have.
The hair fibre products at Boost N Blend are natural hair loss concealers. They use tiny natural fibres made from cotton to cling to each hair shaft. Simply shake in and go, and they'll work to boost volume at the roots – therefore hiding your scalp under thicker-looking hair.
Our natural hair fibres cling to each individual hair shaft to make each strand look up to 10 times thicker. They're safe to use every day, as they're made with natural, plant-based ingredients, completely free of harmful chemicals.
None, other than renewed confidence and feeling fabulous! Our hair fibres are completely natural and chemical-free, so they act to strengthen, rather than weaken, the appearance of your hair.
During normal daily wear, Boost N Blend will stay in place for several days, even during light rain.  However, if you go swimming or get caught in a heavy downpour, you may have to reapply. It's always handy to carry a travel size with you so you can touch up in case this happens. 
For best results and maximum cling, it's important to apply while your hair is dry. A light spray with your usual hair spray will help to keep your style in place all day long.
While Boost N Blend will not make your hair grow back, it will boost its appearance. By clinging to each individual hair shaft, hair will look up to 10 times thicker.
Our natural cotton hair fibres do not prevent hair from growing back and they do not clog the follicles. In fact we have many customers whose hair has grown back while using Boost N Blend. Here is a link to one woman's story about growing her hair back while using Boost N Blend.